Natural wood adds a lovely, naturalistic, and one-of-a-kind aesthetic to interior designs, which is why it is still the most desired flooring option in residences. The inherent irregularities and differences of hardwood offer intrigue and aesthetic impact to architectural interiors, adding nuanced depth and uniting more open floor layouts.
However, despite its beauty, wood has historically been disregarded as a material for toilets be it as wall cladding or flooring due to its short lifespan. Regardless of the additional expense of sealing and waterproofing, you won't obtain any more than just a few good seasons out of it. Fortunately, there is a way to have the wooden decor bathroom of your desire without needing to be concerned about its endurance. The answer is to utilize wood tiles.
Wooden tiles have the appearance of wood however come with the durability of tiles. These are much less expensive and easier to maintain than wood flooring. It is common in rustic-style bathrooms, but it may be blended into other designs as well. There are several wonderful wood tile bathrooms out there, and all have the appeal of natural wood and the longevity of the tiles.

Reasons to Buy Wooden Tiles for Bathroom
As with any tile, wooden tiles for the bathroom come with a plethora of advantages that make them perfect for their application. And since they mimic the look, pattern, and finish of natural wood the following reasons are laid to make them, even more, a practical choice for your bathroom.

Perfect Alternative
Wooden floor tiles are really precise! The effort and precision that goes into the process of creating them make them suitable. Every tile contains a wide range of different patterns, allowing for a good variation across a floor area; just like a traditional hardwood flooring!
These tiles perfectly mimic the look and feel of the natural wood with each knot and groove! Strips are also cut into the face of the tiles with an irregular consistency to give them an organic appearance.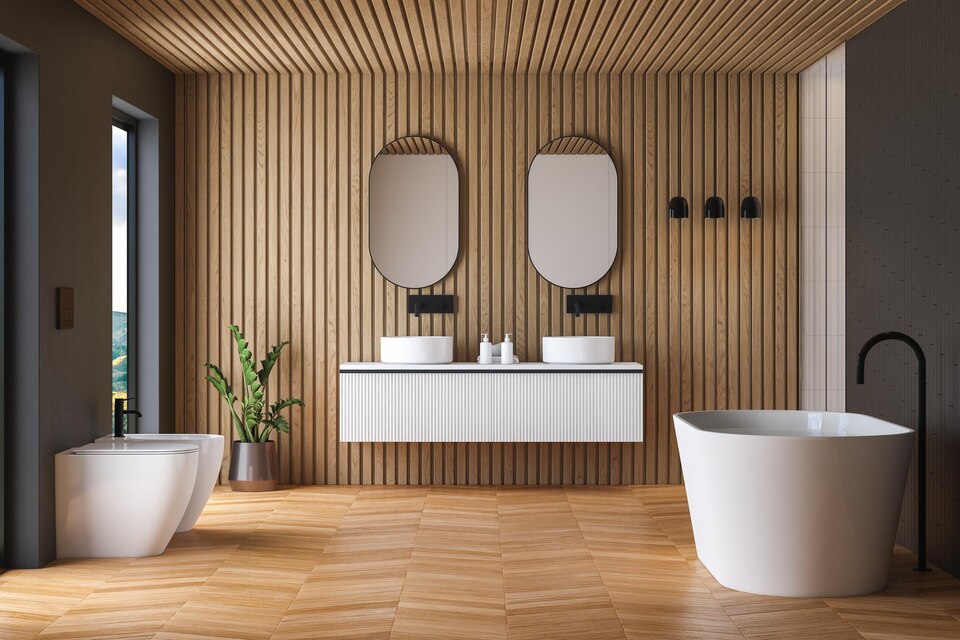 Minimal Upkeep
Hardwood flooring normally requires ongoing treatment and care. To keep the ends from cracking, they must be sanded and waxed on a routine basis. With wooden tiles, you need not worry about that since they are designed perfectly as bathroom tiles and thus require low maintenance.

Sturdier Option
Typical hardwood boards are readily scratched. Simply dragging a chair or a shelf might cause unsightly scratch scars and since in a bathroom mops and brushes may be used regularly they may leave marks too. You won't have to worry about scratching with wooden floor tiles. They are substantially stronger than real hardwood and will not succumb to scratches and marks that easily.

Perfect Safety
When you have a typical hardwood flooring floor in your bathroom, you may occasionally slide when walking out of the showers. This is because typically for bathroom use the wood floor employs a combination of hardwood wax and a slick, polished surface leading to almost no friction or spots in which the flooring becomes moist, such as in a washroom. There is no need to be concerned regarding sliding while using hardwood floor tiles. It contributes to the safety of the elusive bathroom and shower space flooring!
If you like the look of wooden floors and walls, wood tile bathrooms are a less expensive and much more lasting option. There is no need to be concerned about dampness in your bathroom ruining the flooring. It is simple to maintain, there are many alternatives to pick from without breaking the bank, and it is simple to create a distinctive look.